Weekly Message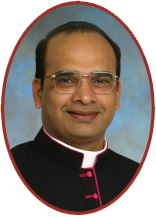 Divine Mercy and The Two Popes
Dear brothers and sisters,
This weekend we celebrate Divine Mercy Sunday; and the canonization of two dear popes, John Paul II and John XXIII.
John Paul II was the longest reigning pope in modern history; he took his message on the road, visiting 129 countries -- in a papacy that lasted more than 27 years. He died at the age of 84 at the Vatican April 2, 2005, the vigil of Divine Mercy Sunday.
John Paul became a spiritual protagonist in two global transitions: the fall of European communism, which began in his native Poland in 1989, and the passage to the third millennium of Christianity.
The day of his canonization is on Divine Mercy Sunday. He was a longtime enthusiast of the Divine Mercy devotions of St. Faustina Kowalksa, whom he beatified in 1993 and canonized in 2000. Pope John Paul launched the biggest international gathering on the church's calendar: World Youth Day.
Blessed John XXIII was the 260th successor of St. Peter, serving as pope from October 1958 to June 1963. He is best known for convening the Second Vatican Council. On January 25, 1959, Pope John XXIII set things in motion when he announced the convening of the Second Vatican Council. He also announced that he would appoint a Pontifical Commission for the Revision of the Code of Canon Law. With this announcement he took one of the most far-reaching steps for reform in the Church. He inaugurated a new era in the development of the Church's law and linked it with the aggiornamento and renewal called for in the ecumenical council. His call for a pastoral emphasis on the deliberations and decrees of the council that would require a set of new or revised laws for implementation.
These two popes sought to renew the Church with a revision of the Church's law. The renewal and this manner of "putting on Christ," is in the life of the Church, and now depends on us, the people of God cooperating with the work of the Holy Spirit. Joyous Easter season.
Blessings!
Msgr. Xavier