Weekly Message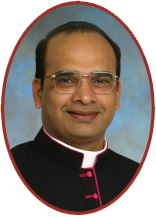 Turning Bad to Good
A Lady once showed John Ruskin [English Romantic Writer and Painter, 1819-1900] a costly handkerchief on which had fallen a large blot of ink. "What a shame," she moaned. "It is absolutely good for nothing now. It is totally spoiled."
Ruskin said nothing but asked to borrow the handkerchief for a day. The next day he handed it to her without a word, and the lady delightedly saw that, using the blot as a starting point, the great artist had designed an intriguing pattern on that corner of the handkerchief. Now it was actually worth more than it had been before the blot had disfigured it.
When a bad habit becomes a part of your daily routine, you lose consciousness of it. You just keep doing it without thinking. Becoming accustomed to a bad habit makes that habit seem much harder to give up than it really is. You don't want to change. When you try to give up a bad habit, it leaves a void in your routine that leads to restlessness and urges. The best way to fill this void is with a good habit.
The first step in the process is deciding to give up the bad habit. You can't decide to give it up because other people say you should. The drive to change must come from within. This drive is created by understanding how the bad habit is harmful and how replacing it could help you to be good!
The act of giving up a bad habit should not be unpleasant, but it is when we feel like we're denying ourselves. We need to fill the void in our daily routine with something that isn't as harmful, and we also need to reward ourselves to maintain our motivation. If you can replace or grow out of a bad habit with a positive, enjoyable habit, or learn and grow from the bad events, the change is much more likely to stick.
Just like Solomon asked the Lord "the wisdom that comes from Him", let us ask the Lord everyday for the grace to know His will and do His will.
With my blessings and prayers,
Msgr. Xavier