Weekly Message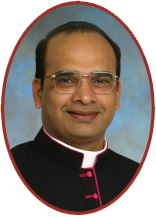 Our Belief and Faith Constructs our Lives
Dear brothers and sisters,
Our faith and our lives are always linked very much. How does our faith construct our lives?
A farmer exhibited at a county fair a pumpkin grown in the exact shape of a two-gallon jug. People wondered, "How could he get that to grow into that shape?" He replied, "When it was no longer than my thumb I stuck it in the jug and just let it grow. When it filled the jug, it quit growing."
What the glass jug did for the pumpkin, our faith or beliefs can do for our souls, our life, our family, the church and our society. We grow as big as the things we believe, and there we stop. Beliefs are creative; our faith is creative. They are also restrictive. They make us what we are, and limit us to what they are.
Therefore Jesus always checked on the beliefs of the people before he did anything for them and with them. When Peter confessed his faith, Jesus said, "I will build my church on you." Wow! What a belief Jesus had on Peter; and today on you and me to build His Church. Still the church is 'under construction'. Building our lives, our family, our society depends on our beliefs and on our faith.
Jesus has a question for us to answer: "When the Son of Man comes, will He find faith on the earth?" (Luke 18:8). Yes, he will find it in you and me. Right?! So, how to build our faith? Just like you build your families. Only by pleasing God every day through our lives. "Without faith it is impossible to please Him" (Heb. 11:6).
Let us use our faith in fullness – doing everything we CAN DO in our lives. If you restrict it, your growth is restricted; if you allow it to grow freely; the Lord, who is the builder, grows it to be a saint, a holy family, His church and a godly society. Let us do anything that we CAN as you see on the cover page of the bulletin. May the Lord who has begun the good work in you bring it to completion!
Walking with you in faith,
Msgr. Xavier