Weekly Message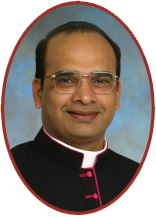 9. Abraham's Call and his Response
Dear brothers and sisters,
This week we read about Abraham, the father of faith. Abraham was not raised in the best of environments; his father was worshipping idols in a pagan society. Yet, Abraham believed God and followed His instructions. His call was a call to salvation; a call to service; a call to a new life; a call to be a blessing. Abraham's life was changed! God set him on a new course for his life. God leads the one who listens to Him.
God promised to Abraham. It was unconditional. He promised Abraham: 1. A land. This is a reference to the promise land, to the land flowing with milk and honey. 2. A great nation. This is a guarantee of many descendants or offspring who will become the nation of Israel. 3. 'Blessing'. Not only will Abraham be blessed, but he would also be a blessing; and extend His blessing to all the families on the earth. (Gen.12:2-3)
Abraham began his journey. God was with him. God showed him the Promised Land. The promise seemed impossible because they were so old but Abraham believed what God said, though later he doubted; and had a son through Sarah's servant girl, Hagar. In God's sight it was not acceptable; Abraham suffered greatly for his sin. His son from Hagar, Ishmael, turned against Isaac. So Ishmael had to leave Abraham's household.
As Abraham grew stronger in faith, God told him to offer his son Isaac as a burnt offering to prove his faith (Gen 22), Abraham obeyed and brought Isaac to Mount Moriah, laid him on the altar and at the last minute the Lord told him not to kill Isaac and gave him a ram for the sacrifice. Here we see Abraham's faith (Heb. 11:17-19) and a beautiful picture of Christ.
During this Lenten days, let us check the strength of our faith especially when we are tested in our lives. Our doubts lead to sinful moments; but our faith is always rewarded by God with a new course or directions for our lives. God provides! Believe it!! Wish you a fruitful Lenten journey!
Msgr. Xavier