Weekly Message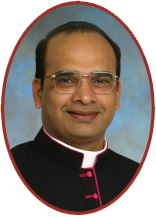 Our Ways and God's Way
Dear brothers and sisters,
A little crab was crawling along the beach with its funny legs. It went back and forth, the only walk that it knew to walk. A big crab was sitting in the shade watching with his queer bulging eyes and said, "My dear little one, where are you trying to go? Are you going north or south or east or west?" The little crab said, "I'm going to the frog pond." "Then walk straight. You won't get anywhere walking the way you do." The little crab asked, "Show me how?" Out came the big crab, and he too walked sideways, exactly like the little crab. Disappointed he sighed, "Even the biggest crab in our family cannot show me how to walk straight."
Most of the time we have a tendency to criticize others for the way they walk and live; but we forget the way we are walking and are unable to walk. Sometimes we even say, "God is not fair, or it is not fair." It means our ways are just; and God's ways are unjust. God has created each one of us to walk and to live the way He wants US to live. Let us not try to live like someone else.
The crab walks sideways; the snake crawls; the birds fly; the frog jumps and hops on land and swims in the water. We have our own (Divine) path to walk and live. We are created to walk on the land and swim in the water. Forgetting this divine plan, we waste so much of our time, energy and life by trying to live like others. If only we would try to live to please God, our world would be so peaceful and joyful.
God constantly reminds us that our thoughts are not His thoughts; our ways are not His ways. Therefore, with the Psalmist let us pray, "Show me your ways, Lord, teach me your paths."
Blessings!
Msgr. Xavier