Weekly Message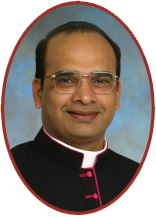 4. Jonah: Arise and Go
Dear brothers and sisters,
During the year of Consecrated life, this weekend we reflect on the call of Jonah. The word of the Lord came to Jonah saying, "Arise, go to Nineveh, that great city, and cry out against it; for their wickedness has come up before Me." (Jonah 1:1-2). God had a specific call for the prophet Jonah – to arise and go to Nineveh. But Jonah runs away from the presence of God (1:3). Jonah knew exactly what the Lord wanted him to do, but he refused. He found a ship, paid the fare, began to run.
God chases him; sent great wind on the sea; a mighty tempest; the ship was about to be drowned. God's decision to choose Jonah was also revealed to the captain of the ship; from the lowest part of the ship where Jonah was hiding and sleeping; the captain pulls him out. When we disobey God, we might also face storms in life. God never leaves us; and when we run away from God, it also affects others. The captain threw him in the sea, at the request of Jonah. He was ready to die rather than do the will of God.
When God put Jonah in the belly of the fish, He had his undivided attention. Don't run from God. Recognize God in the storm. Realize it might be His discipline in your life. (Heb. 12:5-6). Just do what He asks you to do the first time! In the Gospel, Simeon, Andrew, James and John followed Jesus unquestioned.
In the Scripture, we read that God says to the ones He calls, "Arise and go". ...to Philip, (Acts 8:26); to Paul, "Arise and go…and you will be told what you must do." (Acts 9:6). • Arise = get up! Stop being a couch potato and do something! Ask the Lord," what do you want me to do?" He will tell you. "To becomes fishers of men"
Blessings!!
Msgr. Xavier