Weekly Message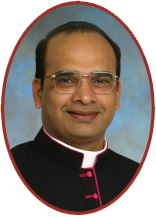 From the Pews to Pulpit
Dear brothers and sisters,
I read an article on "How the Pew helps the Pulpit" by H. B. Charles Jr. It is very pastoral, biblical, spiritual and practical. I would like to share with you and see how you can help me, your pastor.
Pray for your pastor: Pray specifically for his preaching that the Lord will open his eyes and give him understanding (Ps. 119:18, 24), that he will guard his life and doctrine (1 Tim. 4:16), that he will rightly handle the word of truth (2 Tim. 2:15); and that the Lord will keep his heart and mind free from sinful distractions and will give him power in the pulpit.
Be marked present: A blind and deaf Christian was asked why he attended church since he could not see or hear the service. He answered, "I just want people to know which side I'm on." Your regular church attendance is a statement to the world. It is an act of obedience that builds up other believers (Heb. 10:24-25). And it is a great encouragement to your pastor. You challenge him to prepare a better meal (sermon) if you consistently show up with a good attitude and a big appetite.
Listen to the sermon: The pastor stands on a raised platform in a room with people sitting in front of him. And he sees what's happening in front of him. When you spend the sermon talking, walking, texting or sleeping, it's distracting and discouraging. But nothing makes a man want to preach harder than to have people actually listening, sitting up, following along and taking notes.
Encourage him: If you stopped writing an article and didn't get back to it for a week, you could pick up right where you left off. Preaching doesn't work that way. We try to reach out to people on the weekends. The world tries to reach them all the rest of the week. The gravitational pull is against the things of God. And the pastor often feels he is not making a difference. Encourage him. Don't stroke his ego. But give him specific ways you are learning and growing.
Be a doer of the word: A church is not committed to the word just because the pulpit preaches the truth; but when biblical preaching together shapes its life. To hear the word without doing what it says is self-deception (James 1:22-25). Members often leave the church and rate the pastor's sermon. But the real issue is what you do with what you hear. Live it out by Christ's power and for God's glory!
I hope this helps you to help me.
With my blessings and prayers,
Msgr. Xavier