Weekly Message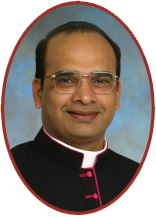 A Shepherding King
Dear brothers and sisters,
We celebrate this weekend the Feast of 'Christ, the King'. How did he attain His kingship? Everything was created in Him, through Him and for Him. But he had to claim it. He had to work for it.
In "Legend of the King: Kios Chronicle", a fearless 12-year-old shepherd boy named Kios is living an ordinary life, when he meets the mystical seer, Zora, and his life is suddenly transformed forever. Zora selects Kios to be the newly anointed king of Kavalie. But attaining his throne won't be easy. While on his journey to fulfill his new destiny, Kios finds that the journey is loaded with colossal challenges. At every turn, there are overwhelming obstacles to conquer. Complicating matters for Kios even more is the ever present threat of the Dark Nation, which has been at war with the Kavalie people for more than 100 years. So, to keep his people safe, Kios must face off against, and defeat the seven invincible Dark Lords.
Jesus was a carpenter; lived an ordinary family life until he was thirty years old; he learned the divine plan all through these years; his mission was to save the people from their sins; his vision was to do the will of His Father to establish His kingship; he emptied Himself to suffer and to be killed. His life was full of challenges, threats and problems. He overcame everything with the love of God and love of neighbor. He called everyone His friends. He became a shepherd to lay down His life for his friends. He took personal interest to seek the lost, heal the hurt, bind the wounded, raise the dead, satisfy the hungry, clothe the naked, etc. He became the servant to all who acknowledged him as the Lord, King and Shepherd. Now, Jesus is a shepherding King, than a Kingly shepherd.
He has shared his kingship with us (1 Pet. 2:5). Let us be shepherds. A servant heart transforms us to be serving kings and queens.
Blessings! Msgr. Xavier