Weekly Message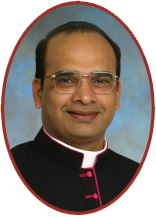 Who are We & What do We Give?
Dear brothers and sisters,
You know the money you carry in your wallet doesn't really belong to you. It belongs to the U.S. Government. It's a Federal Crime for you to mutilate or deface those bills.
Title 18, Sec.333 of the US Code "… whoever mutilates, cuts, disfigures, perforates, unites or cements together, or does any other thing to any bank bill, draft, note, or other evidence of debt issued by any national banking association, Federal Reserve Bank, or Federal Reserve System, with intent to render such item(s) unfit to be reissued, shall be fined under this title or imprisoned not more than six months, or both."(www.moneyfactory.gov/historicallegislation.html). The image on our money declares WHO those bills belong to.
Who are we? We belong to God. In Genesis 1:26 God said, "Let us make man in our image, in our likeness…" We were made in God's image/likeness. God puts His image inside us to say we belong to Him. Like God, we are spiritual beings – our spirits are immortal and will outlast our earthly bodies; we are intellectual – we can think, reason, and solve problems; we are relational – we can give and receive real love; and we have a moral consciousness – we can discern right from wrong, which makes us accountable to God. But the image is incomplete and has been damaged and distorted by sin.
God sent Jesus on a mission to restore the full image that we have lost. That image looks like Jesus Christ! The Bible says Jesus is "the exact likeness of God," "the visible image of the invisible God," and "the exact representation of his being" (2 Cor. 4:4; Col. 1:15; Heb.1:3).
Therefore, by belonging to Christ we perfect our image and giving glory of God in all we do.
With Prayers and Blessings!
Msgr. Xavier