Weekly Message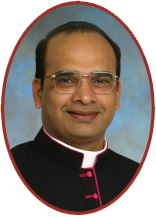 14. A week with Jesus
Dear brothers and sisters,
This is the last week for Jesus before his death. Let us make time to be with him everyday.
Palm Sunday: Jesus began his trip to Jerusalem; he sent two of his disciples ahead to look for a donkey; he sat on the young donkey and slowly, humbly, made his triumphal entry into Jerusalem, fulfilling the ancient prophecy in Zachariah 9:9. How humble are we to fulfill the plan of God for us?.
Monday: Jesus found the temple courts full of corrupt money changers; he began overturning their tables and clearing the Temple. (Luke 19:46) What are the ungodly things in us that need to be cleansed?
Tuesday: Jesus and his disciples returned to Jerusalem. At the Temple, the religious leaders aggressively challenged Jesus' authority, attempting to ambush him and create an opportunity for his arrest. (Matt. 23:24-33) What do you "stand for' in life that pleases Jesus?
Wednesday: Jesus and his disciples spent this day resting in Bethany with his friends, Lazarus, Martha and Mary before his Passover. It's fascinating to consider how our Lord Jesus spent this final quiet day with his dearest friends and followers. Who is your best friend that you would spend time with if you are given three days until you die?
Thursday: Today, after sunset, Jesus washed the feet of his disciples. By performing this humble act of service, Jesus demonstrated by example how they were to love one another. Then Jesus shared the feast of Passover with his disciples (Luke 22:15-16) Later, they went to the garden of Gethsemane where Jesus prayed in agony to God, the Father (Luke 22:44) While praying, Jesus was betrayed with a kiss by Judas Iscariot. Have you betrayed your friend or loved ones for your selfish reasons and caused them pain?
Friday: This morning, Judas Iscariot was overcome with remorse and hanged himself. Before the third hour (9 a.m.), Jesus was falsely accused and was sentenced to death by crucufixon Jesus breathed his last and died by 3 p.m. By 6 p.m. In the evening, Nicodemus and Joseph of Aremathea, took Jesus' body down from the cross and lay it in a tomb. Have you accused some falsely and never repented? Is Judas better than you in repentance?
Let us walk with Jesus and feel with Him the last days of His life journey. May you experience His presence and power always in you daily life.
Have a blessed Holy Week with Jesus!
Msgr. Xavier