Weekly Message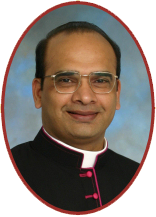 Nothing but Live your Faith
Dear brothers and sisters,
Many years ago a small Jewish boy asked his father, "Why must we surrender our Jewish faith and start to attend Lutheran services here in Germany'? The father replied, "Son, we must abandon our faith so that people will accept us and support our business adventures!"
The young lad never got over his disappointment and bitterness. His faith in his father and in his religion were crushed. When the lad left Germany he went to England to study at the British Museum, where he formed his philosophies for life;he wrote a book that changed the world called, "The Communist Manifesto." The name of that little boy was Karl Marx. He influenced billions into a stream that for 70 years ruined, imprisoned and confused many lives. Today, that system of thinking is crumbling, but only after people got a good look at its tragic consequences.The influence of this father's hypocrisy multiplied in infamy. Without godly faith, all of us are subject to distortions in our perspectives.
Abraham lived his faith and showed it to his son Isaac that "God will provide our needs." He went all they way even to sacrifice his only son. Jesus showed on Mount Tabor while conversing with Moses, the law-giver and Elijah, the great prophet, that the faith in Him fulfills every need of men. We see the principle of faith perfectly portrayed in Jesus. He is the supreme example of faith. Hebrews 12:2 tells us that we are to "fix our eyes on Jesus, the author and perfecter of our faith," which pleases God.
All we need is 'nothing but teaching the faith to our children while living it'; never try to abandon and look for acceptance and support from other friends which would destroy your family and our society. It happened to Karl Marx. It should not happen to you. Protect your family!
Wishing you a fruitful Lenten season!
Msgr. Xavier
We have received "Best of Longview 2016 & 2017"
(Places of Worship Award - TWO Consecutive Years)
This is our Parish Mobile App. St Matthew Longview (in Playstore or AppStore)
Please install it on your smart phone. Let us be in touch. Thanks.
Bishop's Letter to NON-Catholic Christians