Weekly Message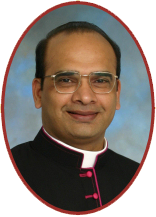 Worry-free: Fret Not, Faint Not, Fear Not
Dear brothers and sisters,
An average person's anxiety is focused on:40% things that will never happen; 30% about the past that can't be changed; 12% about criticism by others, mostly untrue; 10% about health, which gets worse with stress; 8% about real problems that will be faced.
In the lives of Abraham and Sarah: they were childless. Sarah worried but Abraham waited on God for His promise to realize. Now and then he asked God, "How should I do it?" But, he never stopped following the Lord with a generous heart – he believed in God's word; his worry was removed with an assurance of a child.
In the lives of Martha and Mary: Martha worried but Mary waited at the feet of Jesus, which was appreciated by Jesus. She shared Jesus' joy and doubled His joy; she shared His sorrow and lessened His pain. As humans, we do worry now and then; but we do not have to be worrying every day for everything or be worried if we have nothing to worry! We fret, faint or fear!
J. Arthur Rank, an English executive, decided to do all his worrying on one day each week. He chose Wednesdays. When anything happened that gave him anxiety, worry and annoyance, he would write it down and put it in his worry box and forget about it until next Wednesday. The interesting thing was that on the following Wednesday when he opened his worry box, he found that most of the things that had disturbed him the past six days were already settled. It would have been useless to have worried about them.
Therefore, to be anxiety or worry free, "Fret not! God loves you! (John 13:3); Faint not! He holds you (Psalm 139); Fear not! He said it 365 times! Everyday! He keeps you (Psalm 121:5). Why worry when you pray; why pray when you worry? All we need to do is just trust His words.
With prayers and blessings!
Msgr. Xavier
We have received "Best of Longview 2016 - 2019"
(The Best Place of Worship Award - FOUR Consecutive Years)
This is our Parish Mobile App. St Matthew Longview (in Playstore or AppStore)
Please install it on your smart phone. Let us be in touch with us & the World! Thanks.