Weekly Message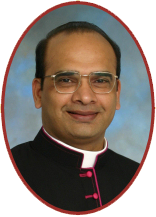 Mercy: Praying for Others
Dear brothers and sisters,
Jesus says, "Ask, and it will be given to you; seek, and you will find; knock, and it will be opened to you." [Mt. 7:7] Praying to God helps us to open our consciousness to the flow of God's grace. By praying, we make a conscious connection with God and attune ourselves more fully to Him. Abraham prayed for Sodom and Gomorra as a friend of God.
I read an article on how to pray using five fingers to remember the five aspects of prayer. Our prayer needs all five of these aspects.
1. Familiarity: The first finger is familiarity. The Lord's Prayer starts with "Our Father." Always pray to God as your own parent, your deepest friend, your own beloved. Make familiarity the beginning of your prayer.
2. Faith: The second finger is faith. We have to pray believing that God will answer our prayers, assuming they are righteous requests. (Mk. 11:24) Jesus expressed it beautifully "Give us this day our daily bread."
3. Frequency: The third finger is frequency. We can't just pray once and assume it's good enough for all day. Use every excuse to make a connection with God. If you have a little heartache, share that with Him. If you are having trouble with someone, share that with Him. If you have a desire for something, tell Him about it. Don't hold anything back.
4. Fervor: The fourth finger stands for fervor. Prayers should be prayer-demands, with the emphasis on demands. With persistence. Wimpy prayers do not take us very far: "God I guess I want to be good today, help me out –  okay?" Make your prayers powerful, stronger and more magnetic; the response will be the same.
5. Follow the will of God: Finally, the last finger, the thumb, stands for following the will of God in everything. The deepest prayer of our hearts should be to know and follow God's will in every thought, word, and deed.
If you pray for you and for others this way, your prayers will be answered. This is asking, seeking and knocking for yours and for others' needs. Blessings!
Msgr. Xavier
We have received "Best of Longview 2016" (Places of Worship Award)
https://www.dioceseoftyler.org/news/2016/07/st-matthew-catholic-church-receives-2016-best-of-longview-award/
This is our Parish Mobile App. St Matthew Longview (in Playstore or AppStore)
Please install it on your smart phone. Let us be in touch. Thanks.