Weekly Message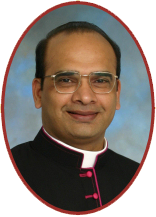 Go Forward, Not Backward
Dear brothers and sisters,
In God's plan every one of us is created to grow and move forward. None of us grew younger so far. In The Curious Case of Benjamin Button, the Brad Pitt movie, a boy is born an old man. As he grows old in years, his body becomes younger. In pretending to be realistic, it does strike at the oldest of human fantasies. This does not happen in reality. No scientists have proved "Don't age, don't grow old, and don't die."
Therefore, we are created to grow. Growth is painful; change is painful. But nothing is as painful as staying stuck somewhere you don't belong. Garibaldi, the great Italian military hero from the 19th century, raised an incredibly committed volunteer army. His appeal for recruits was rather unique as he offered only these terms: "I offer neither pay, nor quarters, nor provisions; I offer hunger, thirst, forced marches, battles and death. Let him who loves his country with his heart and not with his lips only, follow me!" Prophet Elisha listened to God's call; he denied his dependencies, killed and burned them to follow God's will.
In the same manner, Jesus called his disciples - he didn't tell them where they were going; didn't offer comfort, quarters, provisions, etc. but said, "If anyone would come after me, let him deny himself and take up his cross and follow me." Most people in most churches think they are following Jesus, but I'm not so sure. They may think they are following Jesus, but the reality is this: they have invited Jesus to follow them."
As we live our Christian life, let us say: "God, I want you to revive my life. I want to follow you. Help me to get out of the past ways; and navigate my life into following your will." Don't look back; look ahead, move forward withJesus. We will be safe and sound!
My prayers and blessings! Msgr. Xavier
Pray for the Priests of Our Diocese
The Best Place of Worship Award - SEVEN Consecutive Years
Download our Parish Mobile App
Search for "St Matthew Longview" in Google Playstore or Apple AppStore
Please install it on your smart phone. Easiest way to communicate with you & the World!