Weekly Message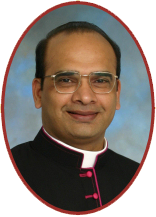 Choice is given; Choose it!
Dear brothers and sisters,
We live in an unprecedented age of options, and that can make choice difficult. Choice is the ability to make a decision, the purest expression of free-will, when you have two or more possibilities. Food delivery apps give us hundreds of restaurant willing to bring our meals right to our door. Entertainment apps give us thousands of movie titles to choose from on a Friday night. This freedom to choose allows us to shape our lives exactly how we wish.
Luciano Pavarotti (a tenor singer) relates: "My father urged me to work very hard to develop my voice. I also enrolled in a teacher's college. On graduating, I asked my father, 'Shall I be a teacher or a singer?' My father replied, 'if you try to sit on two chairs, you will fall between them. For life, you must choose one chair.' I chose one. It took seven years of study and frustration before I made my first professional appearance. It took another seven to reach the Metropolitan Opera. And now I think that whether it's laying bricks, writing a book - whatever we choose - we should give ourselves to it. Commitment, that's the key. Choose one chair. (Guideposts).
One's philosophy is not best expressed in words. It is expressed in the choices one makes. In the long run, we shape our lives and we shape ourselves. The process never ends until we die. And the choices we make are ultimately our responsibility.
God gives us choices to choose: fire or water; good or evil; life or death; love or hate; Godly or ungodly. This is not a license to sin; but respect to our free-will. The right choice will show us His blessings that He promised.
When you have to make a choice and don't make it, that is in itself a choice. Make a right choice! Be blessed!
With blessings!
Msgr. Xavier
(The Best Place of Worship Award - FIVE Consecutive Years)
This is our Parish Mobile App. St Matthew Longview (in Playstore or AppStore)
Please install it on your smart phone. Easiest way to communicate with you & the World!