Weekly Message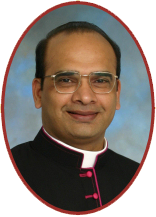 Be Occupied; Not Preoccupied
Dear brothers and sisters,
We hear most of the believers talking about the 'end of time' or the '2nd coming'. Jesus shares 3 major signs of the time; but not the time!
1. False Prophets: Christ says in Luke 21:8, "For many will come in my name." The church today is loaded with false prophets, false pastors, and false people who are leading people away from the faith. Jesus tells us "not to follow them." Many claim to be prophets; but when their prophecy fails, they are false prophets. You may be the best Catholic; but if you are preoccupied with several issues and fail to be occupied with 'what needs to done', that leads to being preoccupied.
2. Fear: The Bible says 365 times "Do not be afraid." Christ say's in Luke 21:26 that fearful events will take place; many hearts failing in fear; signs from heaven; the earth will be shaken; famines and pestilences; numerous wars and rumors of war! When has there not been these troubles? This is our daily news. Many felt these were the prophesied end of the world. WW I, WWII, Nostradamus and Jehovah's Witnesses predictions; the end was not yet. Fear has not only gripped America, but the entire world; look at how much we spend on security, people walking around with concealed weapons, and taking precautions against mass shootings. You are preoccupied, not occupied in faith!
3. Failure: Christ say's in Luke 21:26 that the powers of the earth will be shaken, things will be falling apart and failing. Jesus talks more on 'failing in faithfulness' than failures in life. Failing to be a witness to Jesus: the Truth, the Way and Life. Tempted to give up on Jesus altogether. We see in our families, our schools, our society, our nation and even in our church where the members need to be 'faithful and not fail' the Lord Jesus. Be occupied today and not preoccupied about tomorrow or the end!
My prayers aand blessings!
Msgr. Xavier
We have received "Best of Longview 2016 - 2019"
(The Best Place of Worship Award - FOUR Consecutive Years)
This is our Parish Mobile App. St Matthew Longview (in Playstore or AppStore)
Please install it on your smart phone. Easiest way to communicate with you & the World!
Thanks.