Weekly Message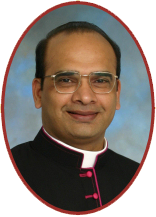 Christian Glory = Love + Suffering
Dear brothers and sisters,
After His resurrection/glorification, Jesus prepares His Apostles for their glorification. He gives the new commandment of love that includes suffering, a path to their glory. When the mother of Zebedee's sons asked Jesus for her sons to sit with Him in glory, Jesus said, "Are able to drink the chalice I am to drink?" Yes, the path to glory is suffering in love.
A Holy Mass was celebrated for married couples. At the end of the Mass the priest was giving out small wooden crosses to each couple. He said, "Place this cross in the room in which you quarrel the most and you will be reminded of Jesus' new commandment "love one another" and you won't argue much." One woman came up and said, "Father, you better give me ten crosses."
No number of crosses on the walls of our homes or around our necks will make us Christians unless we practice Jesus' commandment of love in service and sacrifice. The Apostles had convincingly lived, "It is necessary to undergo many hardships…" to experience the glory the Lord had promised.
Jesus tells us today, "All will know that you are my disciples because of the love you show for one another." This was lived by the early Christian community: Tertullian, the "Father of Latin Theology" said, "See how they love one another." This is the hallmark of Christianity. We see it lived in the witness of the martyrs; in the example of the lives of the saints; in the holy women and men who live and love daily, making small and large sacrifices for others. Let us take our love beyond from sentimental (human) to sacrificial (divine) which brings joy and peace always!
Prayers and blessings!
Msgr. Xavier
We have received "Best of Longview 2016 - 2019"
(The Best Place of Worship Award - FOUR Consecutive Years)
This is our Parish Mobile App. St Matthew Longview (in Playstore or AppStore)
Please install it on your smart phone. Let us be in touch with us & the World! Thanks.