Weekly Message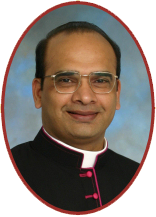 Blessing Tested, Brings Blessings
Dear brothers and sisters,
It's been said that the two greatest tests of character are the test of adversity and the test of prosperity. When life is hard, our character / faith is tested - just like Job in the Bible. And when life is blessed, we're tested - just like Abraham [Gen. 22]; and like the Israelites in the Bible. [Exodus 16:4]
When you are blessed in life, it's important to guard yourself against 4 specific temptations: Your humility will be tested. If you are going through a good season in life, make sure and stay humble. Your priorities will be tested. When life is good it's easy to let other things become more important than God. Your passion for God - your love and the intense need of Him in your life will be tested. You know you need God when life is hard, but you also need Him when life is good. Your generosity will be put to the test. It's sad to see how people become less generous after God has blessed them abundantly. Don't let blessings in your life rob you of a God's spirit.
God blesses us with miracle moments. At any time, God can break into our world and pour out blessing on us. With all these wonders done by God, He expects the evidence of belief. When we don't believe, we put God to the test [Num.14:11; Ex.17:6]. Therefore, the Lord says, "…yet they have put me to the test ten times [countless] and have not obeyed my voice".
Therefore, all the blessing we enjoy every day is to believe in the one who blesses us with everything [Jn.6:28-29] and "being confident of this, that he who began a good work in you will carry it on to completion until the day of Christ Jesus." [Phil.1:6] Someone said, "God's work done in God's way will never lack God's supply."
We are tested in every way [2 Cor. 4:8-10] but always blessed by God!
Prayers & blessings!
Msgr. Xavier
(The Best Place of Worship Award - SIX Consecutive Years)
This is our Parish Mobile App. St Matthew Longview (in Playstore or AppStore)
Please install it on your smart phone. Easiest way to communicate with you & the World!
Special Events
HIGH SCHOOL YOUTH - Kick-off on Saturday, August 14th at 12 noon.

For more details: contact Jim & Michelle Hooks.
**************************
BACK TO SCHOOL BASH on AUGUST 15th on Sunday at 3 PM.
Contact; Llivan & Hellie Hernandez
********************************
FOR LIFE AND FAMILY
TOGETHER IN HOLINESS - CONFERENCE [from St. John Paul Foundation]
Here at St. Matthew's - St. John Paul Center
on October 23
Register here: (click) Form Page – Together in Holiness – Tyler, TX – St. John Paul Foundation (forlifeandfamily.org)