Weekly Message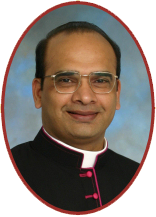 Our WAYS & God's WAY
Dear brothers and sisters,
All of us are called to walk in God's way. God has ONE way - the just & the best way; ONE thought - the right thought to save you and me! We are to think the way He thinks; seek His way that is planned for us. He has spoken to us through the prophet Isaiah; and shown to us through the parable of Jesus "workers in the Vineyard" that our ways are not His way.
In a recent NCAA cross-country championship held in Riverside, California, 123 of the 128 runners missed a turn. One competitor, Mike Delcavo, stayed on the 10,000 meter course and began waving for fellow runners to follow him. Delcavo was able to convince only four other runners to go with him. Asked what his competitors thought of his mid-race decision not to follow the crowd, Delcavo responded, "They thought it was funny that I went the right way." Delcavo was one who ran correctly.
The world will think you "funny" when you walk with God and live the right way. Several people misunderstand the right of way as the RIGHT WAY. The right of way is something given, never taken. Right of way tells you when you should wait for someone else to go; it should not be used to exert your right to go. There is a big difference between the "right way" & "right of way".
If God gave me the choice, I should ask Him to choose for me. Apart from all personal desires or feelings, we surely agree that God's will and God's way must be put before man's wants. The best way to train up a child the way he should go, is to travel that road occasionally yourself. Jesus did it. He says, "I am the Way"; let us walk with Him!
My blessings!
Msgr. Xavier
(The Best Place of Worship Award - FIVE Consecutive Years)
This is our Parish Mobile App. St Matthew Longview (in Playstore or AppStore)
Please install it on your smart phone. Easiest way to communicate with you & the World!