Weekly Message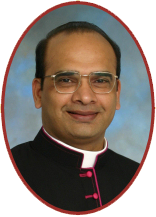 Forgiveness is Given "For Giving"

Dear brothers and sisters,
Almost everyone has experienced forgiveness from God and from others. We are also being hurt by someone, a friend, or co-worker or family member. But hanging on to those negative feelings can do great harm to your health – body, mind and soul. Hence, Jesus wants us to forgive others as He forgives us.
Forgiving a person who has hurt you is never easy, but dwelling on those events and reliving them can be harder; and becomes suppressed anger. Yet, when you learn to forgive, you are no longer trapped by the past actions of others. Therefore, Jesus says, "forgive others 70 X 7 times;" i.e. Unlimited times! How? Practice small acts of forgiveness, such as, if someone is rude or cuts you off in traffic, use that moment to recognize the wrong that it wasn't directed at you personally, and forgive him or her on the spot. This way you can learn to stop immediately the negative reaction and the feeling that comes with it. This positive attitude with productive habits develops successful character. Learning to forgive others increases our health system and helps us to lower the risk of psychological disorders, and many more illnesses. Read 2 Peter 1:5-7.
A young boy in Korea was a houseboy for some American soldiers. Sometimes they thought it was funny to play harmless jokes on him. They would tease him. They would tie his shoe strings together. They would lock him out of the house. Eventually they realized that their practical jokes were not viewed as funny by the boy so they apologized. He said, "That's okay, I will stop spitting in your soup now." Forgiveness doesn't change the past; but changes the future for both. Better give it!
Forgiveness is an attribute of the strong in faith, not the weak. We have received forgiveness countless times. Therefore, forgive others as quickly as you expect God to forgive you. Pray the "Our Father..." and mean it!

Prayerful blessings!
Msgr. Xavier
Please pray for vocations to the priesthood &
for the Priests of our Diocese
The Best Place of Worship Award - SEVEN Consecutive Years
Download our NEW Parish Mobile App
"MyParish"
Upcoming Events

Life Chain - Stand Up for LIFE!
Join a peaceful witness and prayer vigil
on behalf of unborn children whose lives are threatened by abortion.
Sunday, October 1st, from 2:00-3:00 pm.
Southeast Corner of Loop 281 and McCann Rd.
Signs available onsite at 1:45 pm.

Outdoor Mass & Parish Picnic
and Clergy Appreciation Day
Sunday, October 15, Mass at 11:30 a.m.
NO 10:30 AM or 1:00 PM Masses in the church
CHURCH REMODELING & RENOVATION
From Sept. 9th & 10th
Weekend Masses will be celebrated in St. John Paul Center.
All weekday Masses will be as usual in the chapel.

Men's ACTS Retreat
October 26-29, 2023
See bulletin for details