Weekly Message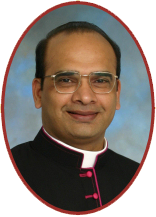 Living-dead vs Dead-living

Dear brothers and sisters,
Zombies are 'a dead body that has been brought back to life by a supernatural power.' They are also known as "living dead." But I am talking about the people who are working, but see nothing, do not eat or drink or breathe for days and nights at a time. They have eyes, but don't see; have ears, but don't hear; have hands, but don't reach out to people or serve, and so on. They are 'living dead'. They survive. The tragedy of this is not death but what we let die inside of us while we live.
Dead-living are those who exist like the dry-bones in the valley that Prophet Ezekiel saw in his vision. If they are given life they would come alive and live. God asked the prophet to prophesy to give life to the dry-bones; they all came to life. This is predicting an eschatological resuscitation and resurrection to life, and restoration to the land of Yahweh's covenant people. Jesus gives life to dead Lazarus, and brings him back to live with his family.
Mark Twain, shortly before his death wrote, "A myriad of men are born; they labor and sweat and struggle; ... they squabble and scold and fight; they scramble for little mean advantages over each other; age creeps upon them; infirmities follow; ... those they love are taken from them, and the joy of life is turned to aching grief ... they vanish from a world, ... which will lament them a day and forget them forever." So ... let our life give life!
Christians do believe in the walking dead. When we came to Christ, the old person died, and now we are a new person. We are dead to sin but alive in Christ Jesus. Therefore, what do we need to do? Live like a dead person or survive to die one day having done nothing or do all we can within our power to give life to people and make them and their families glorify God. Let us be concerned about our "unlived" life.
Prayers and Blessings!
Msgr. Xavier
Please pray for vocation to priesthood &
for the Priests of Our Diocese
The Best Place of Worship Award - SEVEN Consecutive Years
Download our NEW Parish Mobile App
"MyParish"
Upcoming Events

ANNIVERSARY OF ST. MATTHEW
Tuesday, March 28, at 6:30 PM
Family Reception Follows

Join Us for Parish Work Day
Saturday, April 1
9:00 to 11:00 am.

Fridays During Lent:
Stations of the Cross
6:30 PM [English] & 7:30 PM [Spanish]
Make this your Lent devotion
Knights of Columbus Lenten Fish Fry
Dine-in or Take away
Fridays 6 PM-8 PM.
Donations accepted