Weekly Message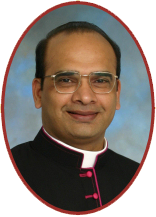 Be at Peace or Prepare for Peace
Dear brothers and sisters,
We are in the second week of Advent. Called to prepare for peace. What is peace? The dictionary says, 'Peace is freedom from disturbances, war and violence.' Is it possible to have this kind of peace in the world? You know it.
Jesus offers 'peace' not as the world gives; but His Peace. He is Peace (Is.9:6). We prepare for His birth in us. We worry too much and become peace-breakers or peace-fakers or peace-takers or peace-makers. None of these give you the peace that Jesus wants to give.
Peace-faker is the person who is afraid of conflict and desires peace at any cost. Even if offended or grieved they will try to hide it in pubic. They will never initiate confrontation or try to bring real reconciliation. They want to pretend that "I'm okay, you're okay." They will avoid the path of peace.
Peace-taker is the person does not initiate reconciliation. They will take peace when someone humbles themselves and offers it. But this person will not take the lead to restore a broken relationship. They are too proud or too afraid. When they experience peace is it almost always at someone else's expense.
Peace-breaker: This is the person who routinely stirs up strife. They are quick to speak, find fault and offend people. They are quick to carry grudges and not only do not initiate reconciliation, but also will often avoid the peacemakers, all the while infecting others with their roots of bitterness.
Peace-makers are the ones to seek reconciliation and the one closest to Christ. He/she is peace and has peace. "Strive for peace with everyone" (Heb.12:14-16.) Angels sang at the birth of Jesus, "Glory to God… and peace to people of 'goodwill.' Let us show our goodwill in everything, at all times, to all people, beginning with our family. May you sow seeds of peace always!
Blessings!

Msgr. Xavier
We have received "Best of Longview 2016"
(Places of Worship Award)
This is our Parish Mobile App. St Matthew Longview (in Playstore or AppStore)
Please install it on your smart phone. Let us be in touch. Thanks.