Weekly Message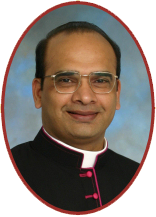 Advent 1: God's Encounter
Dear brothers and sisters,
We begin another new year of the Liturgical Year. Anytime we hear "new" we expect new goals, new plans, new activities, new ministry, etc. The XVI General Assembly of the Synod of Bishops dedicated to the theme "For a Synodal Church: Communion, Participation, and Mission." What does it mean for us? "Celebrating a synod means walking on the same road, "together."
As we begin our Advent, let us take this goal in our spiritual journey: God began this first encounter with man at the fall of Adam and Eve. He searched for Adam and Eve and encountered them; and assured them of His participation, mission and salvation. He punished the Satan. He also encountered Cain and reminded him that the blood of Abel reached His presence for failing to walk "together"; and assured that He would be with him.
We need to "become experts in the art of encounter." That is, "in taking time to encounter the Lord and one another"; "Time to devote to prayer and adoration -- this prayer that we neglect so much: to adore, to make room for adoration -- listening to what the Spirit wants to say to the Church."

Pope Francis said, "It is the time to look others in their eyes and listen to what they have to say, to build rapport, to be sensitive to the questions of our sisters and brothers, to let ourselves be enriched by the variety of charisms, vocations, and ministries."

How do we practice and live with "encounter" in our dayto-day living? If there is no encountering, there will be no listening; if no listening, there is no discerning, If there is no discerning there will be no walking together in life.

Let us prepare this Advent season to encounter Jesus by walking together with one another. Wishing you a fruitful Advent season!
Prayers & Blessings!
Msgr. Xavier
Please pray for vocation to priesthood &
for the Priests of Our Diocese
The Best Place of Worship Award - SEVEN Consecutive Years
Download our NEW Parish Mobile App
"MyParish"
Special Events


Christian Community Healthcare Events!
On ALL Tuesdays: 6:30 PM: Parish Community Healthcare Program for women, youth and children in the St. John Paul Center
Watch this space for the next topic!