Weekly Message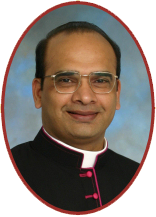 (Please read) IMORTANT INFO.
Anointing for All
Dear brothers and sisters,
Once a painter painted a portrait of thousands of children around the throne of God He was so tired after finishing the painting that he fell asleep in his studio. While sleeping, he had a dream. Someone in that dream began to edit the painting he had painted. There was something new to see him do. The painter immediately asked him, "What is wrong with my painting?" "What's wrong with your painting ...? All the children in the painting you painted are the same color. There are people of all races in heaven., and so, drawing children of the same color is a mistake! That is why I have painted a few children white, a few children black and some children brown." The painter awakened from his dream, and realized that it was Jesus, the man who he had dreamed of, and he amended his sketch to create a portrait of children of all races around the throne of God.
Thus, Joel promises (2:18-20) a time when God's spirit will be accessible to all. Similarly the hope expressed by Jeremiah (31:31-34) that God will write the law on their hearts ... They will all know the Lord, from the least of them to the greatest. The outpouring of the Spirit was the climax of Christ's work. Now it is ours to live by the Spirit.
What the Church needs today is not more machinery or new groups or more novel methods, but people whom the Holy Spirit can use - men and women of prayer, humble to listen to the Spirit. But we need to be in the proximity of hearing God, in the right place where the message is clear.
Let us be united every day in prayer, personally and as a family, for the Spirit to guide us to do God's will.
Msgr. Xavier
(The Best Place of Worship Award - FIVE Consecutive Years)
This is our Parish Mobile App. St Matthew Longview (in Playstore or AppStore)
Please install it on your smart phone. Easiest way to communicate with you & the World!
Special Events
RCIA: Full Communion on June 7th
First Communion For Children - June 13
Names of the children
Celebration of Sacrament of Confirmation
on All Saturdays of July @ 9:00 am
[4th, 11th, 18th & 25th]
ALL our small group meetings may be held
Please contact the church office before scheduling.