Weekly Message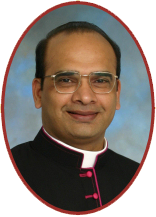 Drawing Down Divine Mercy
Dear brothers and sisters,
I am sure you had a great Easter celebration; and the resurrection of Jesus made a great difference in your lives. The new life you live came out of your encounter with the Risen Christ.
Though we acknowledge that God is in control, we will never find peace until we spend time alone with Him. It seems we often search and search to find peace, without ever searching to find Christ.
A little boy's mother asked if he knew the name of God's Son. The boy replied, "Yes," to the absolute delight of his mother. She then asked if he could tell her, he replied," His name is Andy." "Andy," replied the mother, "Where on earth did you hear that His name was Andy?" And the little boy said, "In church. We sing a song with His name in it." "What song is that," said the now shocked mother. And the boy sang, "Andy walks with me, Andy talks with me, Andy tells me I am His own." Each person encounters Jesus in their own way.
The Emmaus disciples were downcast, brokenhearted because they had their intellectual, emotional, psychological and spiritual knowledge of Jesus, but did not apply it to their lives or souls. They had an empty feeling inside. When they encountered Jesus, their knowledge of scriptures became realistic, life changing, eventful, livable, emotionally and psychotically true. Their downcast feeling turned to be a joyful one. Broken hearts became burning hearts! They encountered what was missing inside.
Your life will never be changed by what you see or hear, but instead it will be changed by your encounters with Jesus. Multiple encounters. The more encounters you have, the more you will change. Some people resist the change and don't want to, so they refuse to have a true encounter with Jesus. Find out your own unique way of encountering Jesus and be joyful in Jesus!
Lots of Blessings & Prayers!
Msgr. Xavier
We have received "Best of Longview 2016 & 2017"
(Places of Worship Award - TWO Consecutive Years)
This is our Parish Mobile App. St Matthew Longview (in Playstore or AppStore)
Please install it on your smart phone. Let us be in touch. Thanks.