Weekly Message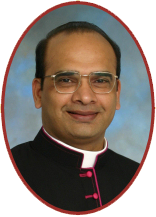 Soil Makes the Difference
Dear brothers and sisters,
If you are not a gardener or landscaper, then you might not know that there is a difference between topsoil, soil, dirt, etc. The former two can support plant growth, but the latter cannot support plant growth, and so on...
Jesus speaks of a sower in the gospel who sowed good seeds but harvests differently. The reason is not the seed but the ground - rocky, thorny ground, pathway and good soil. The soil also could be different - dirt, clay, soil, topsoil - to produce fruits.
Once a man asked his servant to sow barley. The servant sowed oats. The master asked why he sowed oats. The servant replied, "I hoped to grow barley." The master said, "What a foolish idea! Who ever heard the like!" The servant replied, "You yourself constantly sow seeds of evil, and yet expect to reap the fruits of virtue." God says to Christians, "Whatsoever a man sows, that shall he also reap." [Gal. 6: 7-10]
God's word is a seed; sown in the soil of our hearts. Most people expect God's Word to work like a stick of dynamite. It's a seed; it's alive; it contains life. You cannot see, feel, hear, smell or taste the life in a seed. You don't see the life of the seed until you plant it in good soil. The good soil stands for those with a noble and good heart, who hear the word, retain it, and by persevering, produce a crop. [Lk. 8:15] The seed always produces after it's kind. This seed needs to be nourished - read the Word, speak the Word, live the Word and share the Word. This has to be done well. "He who sows sparingly will also reap sparingly, and he who sows bountifully will also reap bountifully. [2 Cor. 9:6]
We sow a thought and reap an act; we sow an act and reap a habit; we sow a habit and reap a character; we sow a character and reap a destiny. It's your heart that makes the difference in your life! Blessings.
Msgr. Xavier
(The Best Place of Worship Award - FIVE Consecutive Years)
This is our Parish Mobile App. St Matthew Longview (in Playstore or AppStore)
Please install it on your smart phone. Easiest way to communicate with you & the World!