Weekly Message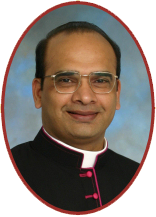 Mercy: Journey to 'WE" Living
Dear brothers and sisters,
This week we celebrate "The Most Holy Trinity." Having been filled with the Holy Spirit, we are lead to reflect on our Trinitarian life. It's a feast of relationship. How do the three individuals become one in our lives?
We try to explain the 'Holy Trinity' with so many analogies; but nothing works well to define the Trinity. Why? Because the Trinity is a doctrine, a biblical revelation. By reason or by deducing from nature we cannot define or explain; but it needs to be experienced.
On the days we received our Sacraments, we were filled with the gifts of the Holy Spirit, the attributes or characteristics of God: Eternal, Goodness, Grace, Holiness, Justice, Love, Mercy, Righteousness, Self-existence, Sovereignty, Transcendence, etc. Our union with Christ invites us, empowers us and makes us to live as Jesus lived and experience as Jesus experienced. The attributes of God become alive in us (James 1:17).
God is both the goal of our journey and the means by which we find him. In Him we live, and move and have our being (Acts 17:28). You know when you buy toys for your kids or grandkids, often times on the package in fine print are these words: "Batteries not included." Do you know what that means? It means that you get the toy, but the power to make it work is not included. That is not the kind of gift that God gives. God's attributes in us include the power of the Holy Spirit – the power to make it work.
When we put the Holy Spirit to work in us and through us, our lives become a Trinitarian one; that is to say, we love as God loves, we forgive as God forgives, we are merciful as the Father is merciful, etc., Thus we experience the Triune God in our lives. This is the journey I call, "from Me to We." God 'in me' becomes God 'among us.'
When our human nature or weakness disturbs us, we need the Holy Spirit as our computers need an antivirus. This is the only free program which never needs updating, always the same yesterday, today and forever. (Romans 10:9-10)
May you experience the Trinitarian God in your relationships with one another and be blest in your life and in your families. Blessings!
Msgr. Xavier
This is our Parish Mobile App. http://www.parishsolutionsco.com/matthewtx.html
Please install it on your smart phone. Let us be in touch. Thanks.