Weekly Message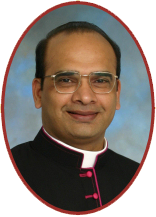 Faith: A Leap from Darkness to Light
Dear brothers and sisters,
Is "faith" by definition "blind"? If no, what is the difference between mere "faith" and "blind faith"? "Blind faith" is classifying "faith" to mean "faith without evidence or proof." The Bible says, "Faith (pi'stis) is the assurance of things hoped for, the conviction of things not seen."
We read today, a blind beggar called out to Jesus with right name: "Jesus, Son of David". He was beggar and blind; no education or formation; BUT he had the right faith, the blind-faith in Jesus. He was physically blind, but never spiritually - he knew Jesus very well; believed Him and His works; he was poor beggar, but rich in faith. He cried out in faith, ignoring the rebukes of the spiritually blind people; but the Lord heard him.
One night a house caught fire and a young boy was forced to flee to the roof. The father stood on the ground below with outstretched arms, calling to his son, "Jump! I'll catch you." All the boy could see, was flame, smoke, and blackness. As can be imagined, he was afraid to leave the roof. His father kept yelling: "Jump! I will catch you." But the boy protested, "Daddy, I can't see you." The father replied, "But I can see you and that's all that matters." He jumped; and was in the arms of his father.
St. Joseph was a man of faith, blindly believing God's words - accepted Mary as his wife, nurtured Jesus as his son, protected his family trusting God's words. Thus, we know, a faithful person has a 'blind faith'. Faith is not a leap into the darkness, but a leap out of the darkness into the light. The blind beggar did it; St. Joseph did it; we do it in our families several times a day.
We walk by faith and not by sight with God and with each other everyday!
Blessings!
Msgr. Xavier
(The Best Place of Worship Award - SIX Consecutive Years)
This is our Parish Mobile App. St Matthew Longview (in Playstore or AppStore)
Please install it on your smart phone. Easiest way to communicate with you & the World!
Special Events
LIFECHAIN: October 3rd [Sunday] from 2 PM. Meet at Hobby Lobby.
LIFE BANQUET: October 11th [Monday] Holyday Inn, Tyler from 6 PM.
PUBLIC ROSARY: October 16th [Saturday]; at Church parking lot; 11:45 AM.
BLOOD DRIVE: October 17th [Sunday] at St. Matthew; from 8:30 AM.
CLERGY APPRECIATION: October 18th [Monday] @ 6:30 PM. in St. John Paul Center.

TOGETHER IN HOLINESS - CONFERENCE [from St. John Paul Foundation]
Here at St. Matthew - St. John Paul Center; on October 23
Register Here: Registration Form