Weekly Message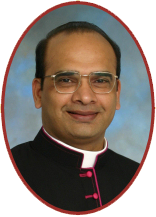 Begin with a New Hope
Dear brothers and sisters,
I wish you and your family the blessings of the New Liturgical Year - "Year of Prayer."
In preparation for the 2025 Jubilee Year "Pilgrims of Hope," 2024 has been designated a Year of Prayer by Pope Francis. The Jubilee Year is a special year of grace, in which the Church offers the faithful the possibility of obtaining a plenary indulgence.
Traditionally, it begins just before Christmas and ends on the Epiphany of the following year. Thus, it starts today, this Advent. The Pope inaugurates the Holy Year with the rite of the opening of the Holy Door in St. Peter's Basilica. After that, the Holy Doors of the other papal basilicas – St John Lateran, St Paul Outside the Walls, and St Mary Major – are opened and remain so until the end of the Jubilee Year.
If Christ's birth gives joy to the world, and the Gospel is a message of Joy, then it is this we should be eager to share with others, and this can be done especially by inviting people to a deeper, prayerful encounter with Jesus Christ this year. We could encourage every Catholic to reflect on their life of prayer: what they pray, how they pray, and why they pray. This is for two reasons: To encourage people to go deeper in their commitment to pray, and in their love of God; and to think about how they might accompany someone else to pray during the coming Year of Prayer.
A priest observed a woman sitting in the empty church with her head in her hands. An hour passed, then two, still she was there. Judging her to be a soul in distress, the priest went to the woman and said, "is there any way I can be of help?" "No, thank you, Father" she said. "I've been getting all the help I need, until you interrupted." This year, let us encourage people to pray and accompany them in prayer - in person or iat a distance.
Wishing you a fruitful Advent season to find Jesus born in you!
God's blessings!
Msgr. Xavier
Please pray for vocations to the priesthood &
for the Priests of our Diocese
The Best Place of Worship Award - SEVEN Consecutive Years
Download our NEW Parish Mobile App
"MyParish"
Upcoming Events
Advent Confession
(English & Spanish)
Monday, Dec. 4th: 5:00 - 7:00 pm
Tuesday, Dec. 5th: 5:00 - 7:00 pm
There will be several priests available

Feast of the Immaculate Conception
Friday, December 8th
A HOLY DAY OF OBLIGATION
Holy Masses of the Holy Day
Vigil: Thursday: 6 pm (Spanish)
Friday: at 7 am, 12 noon, 6 pm (English)
Feast of Our Lady of Guadalupe
Saturday, December 9th
Mañanitas & Rosary 5 AM to 7 AM.
Followed by Traditional Mexican dances
Holy Masses: 7:00 AM & 11:30 AM
Breakfast: 8:00 AM
Lunch with Entertainment at 2:00 PM
Come, let us celebrate together as a family
Hail Mary! / Ave Maria!

Our Lady's Guild
Christmas Brunch and Chinese Auction
10:30 a.m. Dec. 14
St. John Paul Center

Parish Work Day
Saturday, Dec. 16, 8 am to 11:30 am
Bring Your Tools