Weekly Message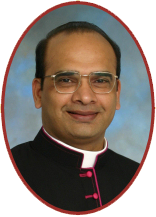 Triangularity: Me, God & Neighbor
Dear brothers and sisters,
Among us, Christians, life is marked by 'triangularity,' viz., an ongoing correspondence between God, self and the world of other people, events and things. The relationship with God -- my primary relationship as creature--is revealed, confirmed, enhanced and enlightened and forms the context for all relationships that are part of the structure of human existence in general and in particular.
We long for love almost every direction. A study shows: the toymakers watch the divorce rate. Why? When it rises, so do toy sales. According to the analyzers, four parents and eight grandparents tend to compete for children's affections by buying toys. If we follow the law of triangular love, we don't have to end our love in divorce. "You shall love your neighbor as yourself." may also be interpreted as "What you hate for yourself do not do to your neighbor." This is the whole law, the rest is commentary; we need to learn.
King David had succeeded in reducing the 613 precepts to 11 in Psalm 15. Isaiah further reduced them to six (Isaiah 33:15), while Micah (6:8) distilled the multiplicity of laws to three. Deutero-Isaiah (56:1) pared the trio of laws to two and Habakkuk (2:4) reduced them all to one: "The righteous shall live by faith." St. Augustine would add his opinion, "Love and do what you like!"
Love originates from God and poured into our hearts every moment to be lived and shared with our neighbors. This triangular love is lived by every person who loves. Someone said, "Show me a church where there is love, and I will show you a church that is a power in the community." If only we could make the world believe that we loved them there would be fewer empty churches.
Let love replace duty in our church relations, and the world will soon be evangelized.
My Prayers & blessings!
Msgr. Xavier
(The Best Place of Worship Award - FIVE Consecutive Years)
This is our Parish Mobile App. St Matthew Longview (in Playstore or AppStore)
Please install it on your smart phone. Easiest way to communicate with you & the World!