Weekly Message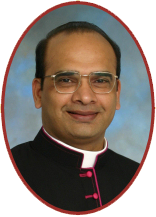 Sown & Planted to Grow
Dear brothers and sisters,
After all our festivities, we are back to our ordinary time of the Liturgical year. As people of God's kingdom, the faith is sown like seeds and planted like stems in our hearts, the good soil - to sprout, grow, put out branches to give shade and fruits to those in need. Someone [God or your parents] took time to sow or plant, to water, to weed, and fertilize. None of us know "the spouting time or growing time" on what day we grew to be what we are today! The same with our faith. The secret to faith growing is that there's no secret!
Saint John Paul said that Saint Joseph's example "transcends all individual states of life and serves as a model for the entire Christian community, whatever the condition and duties of each of us may be." How long did it take for St. Joseph to fulfill God's purpose, to be called "son of David" by the angel? How long does it take for us to grow our faith and be called children of God? "Night and day, whether you sleep or get up, the seed sprouts and grows, though you don't know how." [Mk. 4:27] Acts 19:20, says "the Word of God grew mightily and prevailed." Thus, the timeline of faith growing is indefinite.
Once a group of tourists visiting a picturesque village walked by an old man sitting beside a fence. In a rather patronizing way, one tourist asked him, "Were any great men born in this village?" The old man replied, "Nope, only babies."
Everyone of us is sown as seed or planted as a stem. God intends for us to grow and mature to be great people; so that we can be a positive influence in the lives of others. We begin life everyday as a baby in Christ or in His kingdom. By His grace, let us grow it every moment of our life
Blessings & prayers!
Msgr. Xavier
(The Best Place of Worship Award - SIX Consecutive Years)
This is our Parish Mobile App. St Matthew Longview (in Playstore or AppStore)
Please install it on your smart phone. Easiest way to communicate with you & the World!