Weekly Message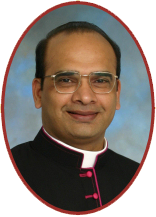 Our Hearts win Our Thoughts
Dear brothers and sisters,
The story is told of a woman who left her husband. The husband called the police and filed a "missing persons report." A few weeks later the police found her a few counties over. He decided to write his wife, and he did for months. Finally, Valentine's day came and he went to see her (she was in a run down hotel). He asked her to come home and she did. On the way home he said, "I've written you for months, why didn't you come home?" She replied,"Because those were just letters, this time you came in person."
Jesus embraces the ancient, God-breathed teachings and intensifies their call to love God and neighbor. He is not negating these teachings but calling all their adherents to embody their demands in concrete and radical, practical and transformative ways. In short, Jesus is bringing these laws to life in his time and place.
Our reasoning says that the teachings of Jesus includes impossible attitudes and behaviors. But our hearts always expects these from others. "Do to others what you would want them to do to you" (Lk. 6:31) This is called the "perfection" in Jesus' words.
Perfection is not superiority. It is not flawlessness. It is not moral absolutism that cares little for those around you. Instead, perfection is found in love. Perfection is found in relationship with those others who seek to harm us or seek our help.
The easy way to live Jesus' perfection is to listen to your heart. Your heart will tell your thoughts that your ego is hurting you and others; and not healing your relationship. Our love wins in the end.
With prayers and blessings!
Msgr. Xavier
(The Best Place of Worship Award - FIVE Consecutive Years)
This is our Parish Mobile App. St Matthew Longview (in Playstore or AppStore)
Please install it on your smart phone. Easiest way to communicate with you & the World!