Weekly Message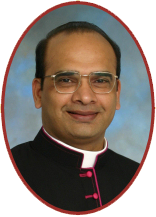 Earthly Riches for Heavenly Bliss
Dear brothers and sisters,
Kappa Beta Phi (ΚΒΦ) is a secret society, best known for its surviving Wall Street chapter that is made up of high-ranking financial executives. The purpose of the organization today is largely social and honorific. Their motto, Dum vivamus edimus et biberimus, is Latin for "While we live, we eat and drink."
Wealth is not bad! After all, Abraham was wealthy. But wealth brings with it certain responsibilities, namely stewardship. We will eventually give an accounting of how we handled the wealth that God has given us and asked us to manage for him.
The Sacred Scripture is full of ethical calls to show compassion to the poor and the needy: Deut. 14:28-29; 15:1-3, 7-12; 22:1-2; 23:19; Heb. 24:7-15, 19-21; 25:13-14; Isa. 3:14-15; 5:7-8; 10:1-3; 32:6-7; 58:3, 6-7, 10; Jer. 5:26-28; 7:5-6; Ezek. 18:12-18; 33:15; Amos 2:6-8; 5:11-12; 8:4-6; Mic. 2:1-2; 3:1-3; 6;10-11; Zech. 7:9-10; Mal. 3:5. In effect, the message had already been given repeatedly from above about how one should respond to the neighbor in need. Anyone with a sensitive heart inclined toward what God desired could understand what He had said about how others and the poor should be treated. They needed no messenger from the dead. So, Abraham refused the request.
What led to the great chasm - in this life and in the judgment - is greed, selfishness and cynicism. The parable of the Rich Man and Lazarus reminds us that it is all too easy for us to live as the rich man did, knowing Lazarus's name and not lifting a finger to help him. God judged the rich man for failing to respond. This is the chasm we create here on earth that follows us to the next life. Fortunately, we still have time to improve our stewardship account with God. Let us use our earthly riches to reach the heavenly bliss.
Prayers & Blessings!
Msgr. Xavier
Please pray for vocation to priesthood &
for the Priests of Our Diocese
The Best Place of Worship Award - SEVEN Consecutive Years
Download our Parish Mobile App
Search for "St Matthew Longview" in Google Playstore or Apple AppStore
Please install it on your smart phone. Easiest way to communicate with you & the World!
Special Events
Ethics and Integrity Class - September 10th [Spanish] 9 AM &
September 14th 6 PM [English] in St. John Paul Center
Click here to register
Christian Community Healthcare Events!
On ALL Tuesdays: 6:30 PM: Parish Community Healthcare Program for women, youth and children in the St. John Paul Center
Topic: Integrating Traditional,
Complementary and Alternative Medicine
Presented by Lois Hart M.D., DNM