Weekly Message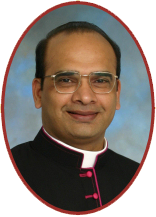 Forever Father's Gift

Dear brothers and sisters,
Join me in wishing all our fathers and grandfathers a Happy Father's day! They are our "Forever Gift" from God. We did not choose our fathers but God chose them.
We also celebrate the Feast of the Body and Blood of Jesus Christ, the "Forever gift" of the Father God. It's also the assurance that he would be with us always. Jesus Himself said that anyone who had seen Him had seen the Father (John 14:9). In Jesus the Father is a gift to us.
The Father's words were spoken from Jesus' lips. The Father's mercy and compassion were seen in Jesus' actions. The Father's abundant provision was demonstrated through Jesus' generosity. The Father's great power and love were revealed to us through Jesus! Jesus is the perfect Gift, and the perfect reflection of the One Who gave Him.
There's a Spanish story of a father and son who had become estranged. The son ran away, and the father set off to find him. He searched for months to no avail. Finally, in a last desperate effort to find him, the father put an ad in a Madrid newspaper. The ad read: Dear Paco, meet me in front of this newspaper office at noon on Saturday. All is forgiven. I love you. Your Father. On Saturday 800 Pacos showed up, looking for forgiveness and love from their fathers.
Fathers are always there to love and forgive. They have a soft and loving heart deep in their strict discipline. Let us reach out to them and experience their generous love. The Gift of the Father never expires. There is no "use-by" date stamped on fathers. The gift won't go bad or spoil, and you won't have to ever throw it out. There is never a need to "update" God's gift or trade him in for a newer model. Your father is a "forever gift" of God. Pray for the living and dead and love them always.
God bless!
Msgr. Xavier
We have received "Best of Longview 2016 & 2017"
(Places of Worship Award - TWO Consecutive Years)
This is our Parish Mobile App. St Matthew Longview (in Playstore or AppStore)
Please install it on your smart phone. Let us be in touch. Thanks.
Msgr. Xavier's Prayer at The Texas House of Representatives