Weekly Message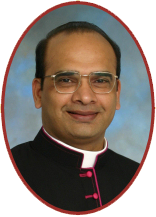 Mosaic Covenant to Modern World
Dear brothers and sisters,
On the third week of Lent, we are invited to reflect on the "Mosaic Covenant" given at Mount Sinai - where God chose Israel and declared them "His possession" (Ex.19:5; 26:18-19), "Kingdom of Priests" (Ex.19:6) and "Holy Nation" (Ex.19:6); and how His people should live to receive the blessings. Disobedience annulled the blessings of God in his/her/its own time. Israel's nature, like us, was sinful. They were prone to stray from God's will and Word, as we are today. The ten commandments provided a spiritual hedge to keep them from becoming ungodly people. As long as Israel is faithful to God it will be blessed with ample crops but should it be unfaithful the land or God will not support it.
The chief redemptive aspect of the Mosaic Covenant has been fulfilled by Christ. The Mosaic ethics becomes Christian ethics in His words - We are "His chosen race, royal priesthood, holy nation and people of His own possession." [1 Pet. 2:9] Jesus revised the Law as "You shall love the Lord your God with all your heart, with all your soul, with all your mind, and with all your strength and you shall love your neighbor as yourself." (Mark 12:30-31) If we follow Christ's command, we cannot break any aspect of the Ten Commandments, nor any aspect of God's morality. At the Jerusalem temple the people were unfaithful and ungodly; therefore Jesus drove them out of the temple.
St. Joseph lived listening to God; chosen and guided to bring blessings on all the believers in Christ. He lived the commandments of God in the presence of Jesus in his family. Let us live the law of love to be blessed and be a blessing to others.
With prayers & Blessings!
Msgr. Xavier
(The Best Place of Worship Award - FIVE Consecutive Years)
This is our Parish Mobile App. St Matthew Longview (in Playstore or AppStore)
Please install it on your smart phone. Easiest way to communicate with you & the World!