Weekly Message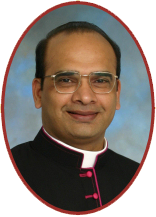 Divine Mercy: Being a Blessing
Dear brothers and sisters,
A little fellow in the slum section of a large city was induced to attend a mission church Sunday school, and by-and-by became a faithful little Christian. He seemed to have settled in his Christian faith, but someone, surely in a thoughtless mood, tried to test his faith or shake his simple faith in God, asking him, "if God loves you, why does He not take care of you? Why doesn't He tell someone to bring you shoes and a warm coat and better food?" This little fellow thought a moment, then with tears starting in his eyes, said, "I guess He does tell somebody, but somebody forgets."
In the parable of the Rich man and Lazarus, in the world's eyes, he was a complete success: he dressed in purple, he wore fine linen and ate good food. He was self-centered, complacent, and arrogant. He was blinded to the needs of others; he was deafened to the voice of God, his conscience.
Lazarus was a complete failure in the eyes of the world: He was utterly helpless, crushed by poverty, incapacitated by sickness, disease, and moral depravity. He was an economic, a moral and spiritual failure.
Why does God allow this kind of differences in life? So that we might mutually help one another to be saved. He says, "For my thoughts are not your thoughts, nor are your ways my ways, says the Lord." (Is. 55:8-9).
God is able to make every grace abundant for you, so that in all things, always having all you need, you may have an abundance for every good work. (2 Cor. 9:8) God blessed you with wealth and riches so that you would use the blessings to be generous with others and find your way to go to heaven.
God doesn't bless you so you can be greedy or selfish or pile them up. He blesses you so you can be generous. When you let go of what's in your hand, it's now empty to receive greater blessings from God. You can't love without serving and giving; and your loving service leads to expressions of thanksgiving to God. Let us be a blessing to one another.
Blessings!
Msgr. Xavier
We have received "Best of Longview 2016"
(Places of Worship Award)
https://www.dioceseoftyler.org/news/2016/07/st-matthew-catholic-church-receives-2016-best-of-longview-award/
This is our Parish Mobile App. St Matthew Longview (in Playstore or AppStore)
Please install it on your smart phone. Let us be in touch. Thanks.