Weekly Message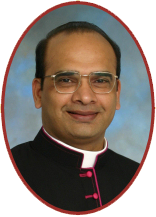 30. Working Hard to Complain
[Year of Consecrated Life]
There was a lady who lived alone in a suburban apartment complex. Upset at the noise from the adjacent apartment that she claimed was disturbing her, she immediately called her landlord. "You need to get up here right away," she told him. "There is a huge party going on next door, and I want it to stop!" Worried about the idea of losing one of his tenants, the landlord hurried up to the woman's apartment. The woman invited him in and said that this was the third time her neighbors had thrown a party this month and that this one was worse than the others.
The landlord listened closely but could not hear even the slightest sound penetrating the wall between her and her neighbor's apartment. "I'm sorry," he said, "but I cannot hear anything." "Well," she explained, "You're not listening close enough. If you will go into the bathroom, shut the door, and hold this glass to the wall, you can hear nearly every word they say!" She was working hard to find something to grumble or complain.
The people of Israel quickly forgot about the Lord's doing; now they began to complain about everything. I am sure you have seen people of this kind, who have nothing good to say about anything or anyone at anytime. They always look for something to complain about.
Someone said, "The real heretic is not the atheist or agnostic (who are often decent people) but those who murmur and complain it doesn't matter what you believe, as long as it makes you feel good. This turns religion, church, the world, the family into a subjective matter.
Let us live our lives with gratitude to God and to one another; and never forget the marvelous things the Lord has done in you and through you and for you; through your parents, brothers, sisters, children, friends and the church at large. Count your blessings; and be a blessing to others. It is better to complement than to complain!
Have a blessed week!
Msgr. Xavier