Weekly Message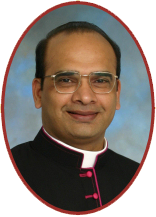 Listening to the Holy Spirit
Dear brothers and sisters,
How well do you listen to the Holy Spirit? If you don't listen to Him, you'll have major problems in life. Therefore, the Father God tells us "listen to Jesus, His Son." Jesuslistened to His Father day and night. Through out His life, Jesus tells us, "He who has ears, let him hear." [Mt.11:15, 13:9; 13:43 and many more] Even after His Ascension, He told us to cultivate "hearing ears." [Rev. 2: 7,11; 17: 7,29 and more] Why? It is totally important for a believer to listen to oneself, to others and to God. Not listening messes up our living.
Ben was not born with listening ability; but now he had a special knack of listening. His brother and sister were born deaf mutes, so from childhood he had to learn their sign language. To do this one must be very attentive to every move of the hands and fingers… and of course one never says anything. Only watching constantly and attentively, giving all one's attention to the speaker. This trained Ben more than anything else, to do the same when others spoke vocally.
When you are able to be still you will be able to listen to the Holy Spirit. "Be still and know that I'm God." Psalm 46:10 "having heard the Word and keep it…" [Lk.8:15] How? Develop: 1) an attitude of "a lot to learn" and "a lot of I DON'T KNOW"; 2) a good heart to do good to others; 3) listen to His word that helps you to learn, for reproof, for correction, for instruction...[2 Tim. 3:16] It is profitable listening.
Listening is a relationship. You invest time in your relationship when you listen - with God and with one another. Moses listened and lead the people; Elijah listened to God in a "still small voice." Paul listened only when there was flashing light and a loud voice. How and when will you listen? Take some quiet time day and night to listen to the Holy Spirit that is in you to build a relationship with God and others.
Blessings! Msgr. Xavier
Pray for the Priests of Our Diocese
The Best Place of Worship Award - SEVEN Consecutive Years
Download our Parish Mobile App
Search for "St Matthew Longview" in Google Playstore or Apple AppStore
Please install it on your smart phone. Easiest way to communicate with you & the World!
REVIEW QUESTIONS for Confiramtion
Special Events
Christian Community Healthcare Events!
On ALL Tuesdays: 6:30 PM: Parish Community Healthcare Program for women, youth and children in the St. John Paul Center.
Topic: Healthcare: Menopause and Aging
Presenter: Dr. Frank Tibilette