Weekly Message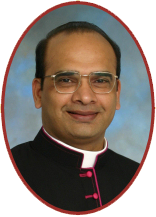 Our Way Vs Jesus' Way
Dear brothers and sisters,
We all have our way of doing things; living our traditions. We say, "This is the way we have always done," but conveniently change it later, because our way is not the best way.
Jesus uses quite another and different formula. "You have heard that it was said…but I say to you…" (Mt.5:17-22). He was not about to correct Scripture, or rewrite the law but getting back to the heart of what it really means. Therefore, 'when Jesus had ended these sayings, the people were astonished at His teaching: for He taught as one having authority, and not as the scribes' (Mt.7:28-29). Jesus is clearly declaring Himself to be the ultimate authority on the Scriptures.
God speaks to us through the Scriptures not in order to make us scholars, but to make us Christians. Christ's thrust is to teach that the primary aspect of righteousness was not outward expression, but rather the inward matter of the heart. Therefore, He says in Mt. 5:20, "For I say to you, that unless your righteousness surpasses that of the scribes and Pharisees, you shall not enter the kingdom of heaven." He summarized his teaching in one phrase: "Do unto others…" It is the perfection of religion, morality and our daily living.
Once a young preacher talked to an experienced and aged minister and asked for advice to carry out his ministry. The aged minister said, "Every text which you choose to preach from the Bible will have a road that leads to Jesus. Be sure you find that road, and follow it; be careful not to miss it once."
The way we walk is the way of Jesus. That is Jesus' way. He not only said it, but also showed it and walked it. Let us choose His way; and may His way be our choice among the worldly choices.
God's blessings to you and your family!
Msgr. Xavier
We have received "Best of Longview 2016"
(Places of Worship Award)
This is our Parish Mobile App. St Matthew Longview (in Playstore or AppStore)
Please install it on your smart phone. Let us be in touch. Thanks.