Weekly Message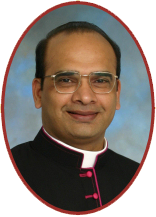 Watchfulness - Faithfulness
Dear brothers and sisters,
A wise person is always faithful and watchful. Watchfulness concerns fidelity rather than faith. Faith is foundational for those who would be watchful. Without faith it is impossible to please God, therefore faith is the absolutely necessary prerequisite for watchfulness. But fidelity is the motivation for being watchful.
Watchfulness suggests a preparedness in order to avoid being taken unaware by an enemy. (Psalm 127) It involves fighting carelessness to reach a desired goal (Prov 8:34; Neh. 4:9; 7:3) A simple definition of watchfulness is "vigilance; heedfulness; suspicious attention; careful and diligent observation for the purpose of preventing or escaping danger, or of avoiding mistakes and misconduct." It is for every Christian. (1 Peter 5:8)
When Mr. and Mrs. Henry Ford celebrated their golden wedding anniversary, a reporter asked them, "To what do you attribute your fifty years of successful married life?" "The formula," said Mr. Ford, "is the same formula I have always used in making cars - just stick to one model."
If we are faithful to our living, we are naturally motivated to be watchful to our words, actions and attitudes in our relationships. This proves that we are wise and prudent. Therefore, three basic things are to be noted: be prepared for the Lord's return; be on guard against temptation; and be watchful in prayer.
Someone said, "Don't waste your time waiting and longing for large opportunities which may never come. But faithfully and wisely handle the little things that are always claiming your attention." In short, bloom where you are planted. Be faithful/watchful to the life you have chosen to live.
Blessings!
Msgr. Xavier
Please pray for vocation to priesthood &
for the Priests of Our Diocese
The Best Place of Worship Award - SEVEN Consecutive Years
Download our Parish Mobile App
Search for "St Matthew Longview" in Google Playstore or Apple AppStore
Please install it on your smart phone. Easiest way to communicate with you & the World!
Special Events
Ethics and Integrity Class - August 10th [in Spanish] 6 pm in St. John Paul Center
Click here to register
Christian Community Healthcare Events!
On ALL Tuesdays: 6:30 PM: Parish Community Healthcare Program for women, youth and children in the St. John Paul Center
Topic: For Women: Diets VS Healthy Weight Loss and Lifestyle,
Presenter Susan Robinson, M.S.;NBC-HWC