Weekly Message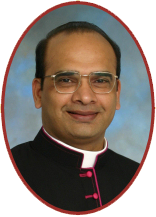 Sunday Mass March 29 - English
Misa Del Domingo Marzo 29- Espanol
In the Tombs or Wombs
Dear brothers and sisters,
I like this saying: "You're not dead till you're dead." This gives me lots of hope and energy to live my life as a priest and your pastor. Too many people are thinking of security instead of opportunity. To save souls is my opportunity. Some people seem more afraid of life than death. Therefore, they die sooner!
Looking at the two seas in the Holy Land. The Sea of Galilee freely receives and gives out water. It has an abundance of life, nurturing many different kinds of fish and plant life. The water from the Sea of Galilee is carried by way of the Jordan river to the Dead Sea. But the Dead Sea only takes water in and does not give out. There is nothing living, no fish or plant life in the Dead Sea. The powerful life giving waters of the Sea of Galilee become dead when mixed with the hoarded waters of the Dead Sea. Life can not be sustained if held onto.
We all know people who get old before their time and act like the living dead. And we know people who are full of energy, who have a passion and zest for life. They have never lost the wonder and playfulness and look for new adventures and new relationships. These types of people have discovered the flow of life. They remain attuned to that inner life-giving spirit that is forever renewing in the midst of pain and suffering associated even with coronavirus. This sacred spirit wants nothing more than to breathe new life into that which is seemingly dying or has already died. Life is given to give life, not to die.
Such is the call we heard from Ezekiel, (life to the dry bones) Paul (new life in Christ) and John (life to dead Lazarus). We all have certain areas to breathe the breath of God; some stones to be rolled away; some tombs can become wombs to give new life, new birth in Christ. Life is an opportunity, live it well breathing life into others!
Wishing you a fruitful Lenten Journey!
Msgr. Xavier
(The Best Place of Worship Award - FIVE Consecutive Years)
This is our Parish Mobile App. St Matthew Longview (in Playstore or AppStore)
Please install it on your smart phone. Easiest way to communicate with you & the World!
Special Events
NO Masses or Faith Formation Classes
March 25, 28 &29
UNTIL FURTHER INFO.
ALL our meetings are cancelled until further notice.
****************