Weekly Message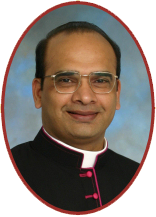 Spiritual Dehydration
Dear brothers and sisters,
'Thirst' is a word loaded with figurative meaning. We have 'dipsomania' which comes from the Greek dipsos, meaning extreme thirstiness or extreme dryness in the mouth and throat caused by the lack of fluids which results in a desire to drink. Some of you might have experienced at some point a serious life-threatening dehydration known as a real pain of thirst for water. This also is used for thirst for knowledge;money, professions, possessions, position, praise, pleasure and many more. What is your dehydration or thirst?
Everyone lives thru several thirsts in life. Why? Man was created for God and at the core of our being is a vacuum that only God can fill. St. Augustine went thru thirsts that did not satisfy him. Finally, he said "Our heart is restless until it rests in you." He found his rest.
I heard a story one time of a foreigner here in America who saw a water fountain for the first time in his life. But he could not see how to make it work. It had no tap, no buttons to press. He became very angry and frustrated. He was about to turn away when somebody pointed out to him a little sign on the bottom of the fountain that simply said, "Stoop, and drink." When he stooped over he discovered that an electric eye detected his presence and the water automatically came flowing out.
The Samaritan woman in the Gospel had been thru various thirsts; but found none satisfying. She found that Jesus alone could satisfy her thirst. She needed neither a bucket nor rope to draw water; but good will and a humble heart "to stoop and drink". When a person identifies his or her thirst as 'thirst for God' or a spiritual thirst, his or her living becomes a meaningful one. Moses had to strike the rock to get drinking water for his people.
During this Lenten journey, let us walk towards the Rock, Jesus, where, "They shall hunger no more, neither thirst," that exists in heaven in the presence of the Savior. (Revelation 7:16). Please identify your thirst, and approach Jesus, the Rock.
Msgr. Xavier
We have received "Best of Longview 2016 & 2017"
(Places of Worship Award - TWO Consecutive Years)
This is our Parish Mobile App. St Matthew Longview (in Playstore or AppStore)
Please install it on your smart phone. Let us be in touch. Thanks.