Weekly Message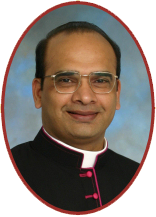 Get Out of the Cave / Boat
Dear brothers and sisters,
Elijah, the mighty prophet of God, went from performing miracles, signs and wonders to a man filled with self-pity, dark & emotional depression and solitude; hiding himself in a cave. Elija was searching for answers from God and desiring to be free from his self-made prison. God asked him to "come out" of the cave to find an answer. God did not speak to him in the wind or earthquake or fire but in a still small voice. God had a new direction for Elijah and to anoint his successor, Elisha.
We may think Simon Peter was nuts for getting out of the boat and thinking he could walk on water - the weather conditions; the physical impossibility; etc. But this is the point of the exercise: God calls us out of our comfort zones to make the impossible possible with His words. Peter did get out of boat. He had his eyes fixed on Jesus alone. He could do the impossible.
What is your cave or boat that represents safety and security to you apart from God? We may have the 'lazy boy attitude' to life. I know a lot of people, who have found their own version of a cave or boat. No one can reach them. They don't want to open up to anyone. They don't believe that anyone can possibly understand what's happening to them. That is nothing but a trick of the devil. He knows that if we fight alone we can't defeat him; so, he forces us into a place of internal solitude.
To overcome our imprisoning or depressing issues, "Come out of the cave or Step out of the boat!" When Jesus calls you to 'come or step out', He will be with you. You may sink occasionally. That is our human nature. But God can pick you up. There's something inside of you that says 'you can do it'. How would you know until you do it! May the Lord answer all you needs!
May the Lord multiply your blessings!
Msgr. Xavier
(The Best Place of Worship Award - FIVE Consecutive Years)
This is our Parish Mobile App. St Matthew Longview (in Playstore or AppStore)
Please install it on your smart phone. Easiest way to communicate with you & the World!