Weekly Message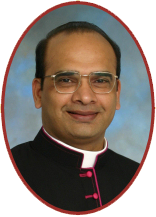 Palm Sunday Mass (live)
Suffering to Sanctify
Dear brothers and sisters,
We enter into the Holiest week of the year. Jesus entered Jerusalem willingly to suffer to sanctify us all. God spoke to us in various ways and finally through His own Son [Heb.1:1-2]. But much louder in our suffering like the 'Corona Virus'. Do we hear?

We have a question in our mind, "Why do good people suffer?" Someone asked C.S. Lewis, "Why do the righteous suffer?" "Why not?" he replied. "They're the only ones who can take it." It's God's will for good people to suffer [1 Peter 3:17-18].

In our lives all of us are suffering with something or other. Suffering is the heritage of the bad, of the penitent, and of the Son of God. Each one ends in the cross. The bad thief is crucified, the penitent thief is crucified, and the Son of God is crucified. By these signs we know the widespread heritage of suffering. The bad thief's suffering sent him to hell; the good thief's suffering sanctified him and he ended up in heaven; Jesus' suffering sanctified everyone who believes in His suffering.

The Word of God promised suffering, "Through many tribulations we must enter the kingdom." (Acts 14:22) Jesus said, "If they persecuted me, they will persecute you." (John 15:20) Peter said, "Do not be surprised at the fiery ordeal among you, which comes upon you for your testing, as though some strange thing were happening to you." (1 Peter 4:12) It is not strange; it is to be expected. Paul said in 2 Timothy 3:12, "Indeed, all who desire to live godly in Christ will be persecuted.

Therefore, my suffering and yours has a purpose and meaning. [1 Pet. 2:21-22] Let every suffering motivate us positively just like Jesus' and sanctify our lives and fill our lives with joy.
Wish you a Blessed Holy Week! My Prayers and blessings!
Msgr. Xavier
(The Best Place of Worship Award - FIVE Consecutive Years)
This is our Parish Mobile App. St Matthew Longview (in Playstore or AppStore)
Please install it on your smart phone. Easiest way to communicate with you & the World!
Special Events
NO Masses or Faith Formation Classes
UNTIL FURTHER INFO.

ALL our meetings are cancelled until further notice.
****************