Weekly Message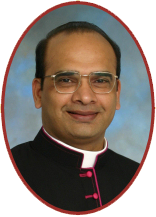 Meekness is Not Weakness
Dear brothers and sisters,
This week we are invited to reflect on blessings on humble people. "They that know God will be humble," John Flavel has said, "and they that know themselves cannot be proud." This could be understood only by humble hearted and gentle spirited people. Meekness or humility is not weakness; but it is strength under control.
Wakefield tells the story of the famous inventor, Samuel Morse, who was once asked if he ever encountered situations where he didn't know what to do. Morse responded, "More than once, and whenever I could not see my way clearly, I knelt down and prayed to God for light and understanding."
Morse received many honors from his invention of the telegraph but felt undeserving: "I have made a valuable application of electricity not because I was superior to other men but solely because God, who meant it for mankind, must reveal it to someone and He was pleased to reveal it to me." He understood, "Be humble or you'll stumble."
Jesus reveals certain truth in the Gospel this weekend: God reveals to the simple and child-like the mysteries of His kingdom; Jesus invites us to come to Him and learn from Him. Whenever burden is weighing us down, Jesus wants to help us carry our load. He wants to yoke with us. He calls himself meek, gentle and humble of heart. Because, meekness is not weakness; but strength in control. This is what gives rest to our weary souls and burdened life.
Humility does not mean thinking less of yourself than of other people, nor does it mean having a low opinion of your own gifts. It means freedom from thinking about yourself one way or the other at all. Blessings.
Msgr. Xavier
(The Best Place of Worship Award - FIVE Consecutive Years)
This is our Parish Mobile App. St Matthew Longview (in Playstore or AppStore)
Please install it on your smart phone. Easiest way to communicate with you & the World!
Special Events
Celebration of Sacrament of Confirmation
on All Saturdays of July @ 9:00 am
[4th, 11th, 18th & 25th]
Names of the children

Please contact the church office before scheduling.