Weekly Message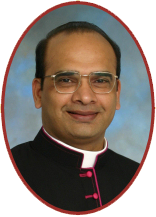 Hope: Shaping the Broken Past
Dear brothers and sisters,
Every year we've had great hope and lots of preparation during this season. But this year, due to COVID, we experience the broken, divided, unstable, social distancing and fearful social living – no handshakes; no hugs; no celebrations; no family get-to-gether; no vacation, etc. As we begin the Advent season and prepare for Christ's birth once again, do we have some hope for a better and peaceful world? When we look for an answer from God or return to God, we have hope for a solution and we may give 'hope' to everyone around us.

"A victim of mental depression, once went to consult a skilled physician regarding his condition. The doctor prescribed some lively amusement, and told him of a celebrated clown, who was entertaining great companies in a certain place of amusement in the town. With an expression of despair on his haggard face, the visitor exclaimed, "I am that clown." The man who was moving thousands to laughter each night, was a victim of depression himself."

All of us have a broken past to fix; a stressful life to live. Broken pasts are like our children bringing their broken toys with tears for their parents to mend. The people of Israel brought their broken dreams to God because He was their Father. We need to bring our broken lives to God. But then leave Him in peace to work alone. Sometimes we tried to help with ways that were our own. At last we snatch them back and cry, how can you be so slow? Hope is near for those who are patient, watching, waiting and alert.
God is our potter. We are His clay. He forms, molds and fixes everyone of His children; but we need let go of our broken pasts and allow Him to shape us. Hope in God! Wishing you and your family a fruitful Advent season.
Bessings!
Msgr. Xavier
(The Best Place of Worship Award - FIVE Consecutive Years)
This is our Parish Mobile App. St Matthew Longview (in Playstore or AppStore)
Please install it on your smart phone. Easiest way to communicate with you & the World!