What is S.M.A.C.K.?
S.M.A.C.K. stands for Saint Matthew's Awesome Catholic Kids and is the umbrella name for the middle school and high school youth programs at St. Matthew's Parish. We are proud to offer 3 faith filled programs to assist parents in the task of filling the spiritual and social needs of the parish youth. These programs are:

Life Teen is a program open to teens in high school (grades 9-12) in English which begins with the 6:00 Sunday Mass. The program is an international parish-based program that is used by over 1,200 Catholic parishes around the world. Through mentoring and regular events, our goal is to "Lead teens closer to Christ". This is more than just the motto of LIFE TEEN; it is the central focus of everything we do. The Youth Director and Core (adult program leaders and mentors), with the guidance of the pastor and others, execute comprehensive Catholic youth ministry. Our weekly Life Nights begin with Mass at 6pm followed by dinner and a dynamic youth-oriented session that incorporates teachings on Catholic beliefs, interactive activities, and socialization. Our Life Nights cover catechetical studies, fun social activities, and teen issues in a way that is 100% Catholic and comprehensive. We also provide teenagers with healthy and holy activities to take part in throughout the year that will not only strengthen their bonds with each other, but will strengthen their relationship with God and the parish community as well.


Cristo Joven translates into English as "Young Christ", and as Young Christs we try to live. We are the Spanish youth group at St. Matthew's Catholic Church open to Hispanic youth in high school (grades 9-12). Our objective is to get to know each other and to grow together spiritually, society, and in good moral principles. We meet every Sunday at 4:30 pm to 6:00 pm at the Pope John Paul II Family Center. Our Sunday meetings consist of prayers, worship, youth topics, and of course, fun games.
Our St. Matthew's Youth Ministry programs consist of three key parts (1) Holy Mass (2) weekly gatherings for faith formation & fellowship, and (3) Retreats and Conferences. We believe that Christ-based ministry (particularly through His presence in the Most Holy Eucharist and the Sacrifice of the Mass) has the power to transform teens, transform parishes, and transform culture.
(1) Holy Mass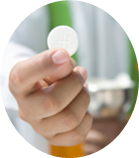 Wednesday evenings at 6pm, the parish offers a Mass preceding the Faith Formation programs, including EDGE, which all youth and their parents are encouraged to attend. The High School Youth meet and participate in the weekly Sunday 6pm Holy Mass which leads into that week's LIFE Night. Holy Mass is the most important part all our youth ministry programs. Our desire is for youth to fall in love with the sacredness and timelessness of the Eucharist.
(2) Weekly Faith Formation –LIFE Nights & EDGE Nights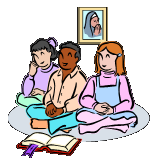 It's fun to learn about your Catholic faith with your friends. So after Holy Mass, we encourage youth to meet weekly in the Parish Hall. Our hope is that every Night is not just fun, but also challenges you to go deeper in your relationship with God and to know more about your Catholic faith. Middle School EDGE Nights are part of Wednesday night Faith Formation at 6:30pm, and High School LIFE Nights follow the 6pm Sunday Mass with food, fellowship, and formation.

For the 2012/2013 school year, S.M.A.C.K. is proud to be able to include Theology of the Body for Teens in their faith enrichment. If you would like to learn more about these programs, parents and teens are invited to attend the classes or you can visit their web site:
(3) Retreats and Conferences
We offer periodic retreats and events organized outside the parish that allow the parish youth to encounter Christ in the greater Church community. This year we will participate in a Theology of the Body Retreat, and our annual Teen ACTS Retreat. S.M.A.C.K. encourages teens to attend the two weekend-long retreats, and other events promoted by the parish. Why? Because we know that you need a chance to get away from the dramas of ordinary life and spend a few days to spend time with God and with our Catholic community of friends.

Theology of the Body Retreat

Theology of the Body Retreat is April 19, 20, and 21. We will meet at St. Matthew's on Friday the 19th between 5:30 and 6:00 to carpool to the Pines.